Your sailboat fits in your car
The Tiwal 3 small inflatable sailboat stows in the trunk of your car. It will take you on an ocean of nautical adventures. The weekend promises to be sunny and you're dreaming of a trip on the water? Are you vacationing by the sea and looking forward to tacking in that windy bay? Your dinghy is in the trunk of your car, so it's okay, we'll get you out on the water!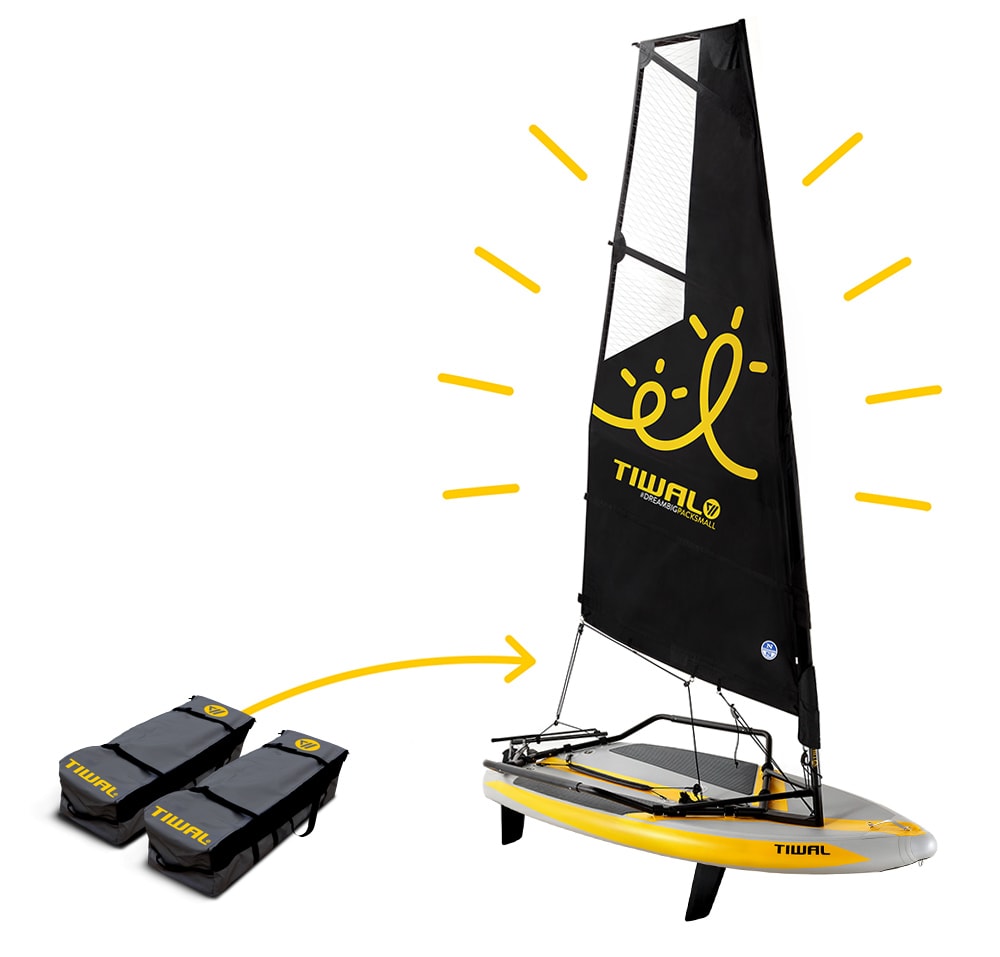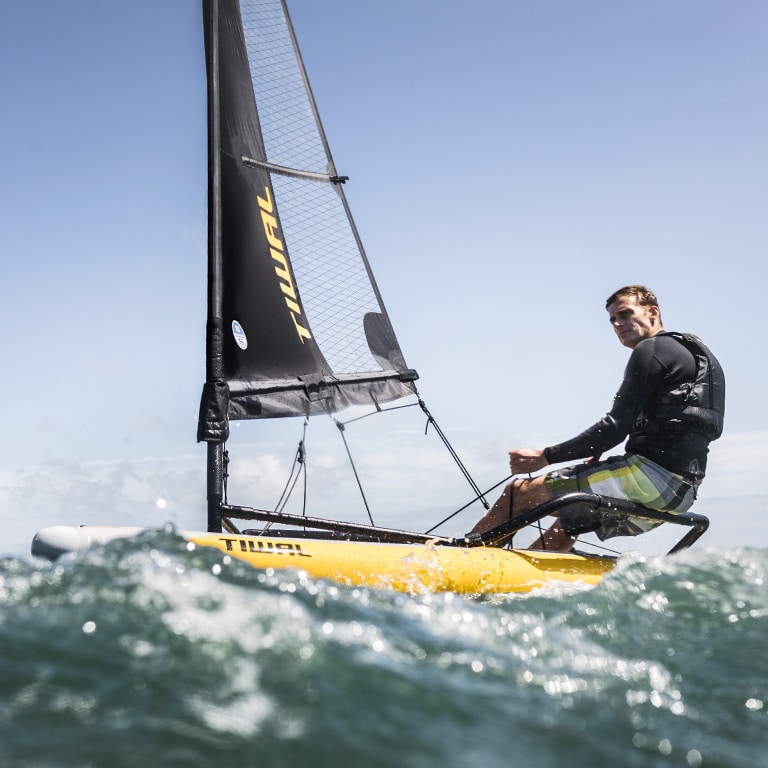 Easily transportable, your boat fits in 2 bags, with an all-up weight of 110 lbs.
Max. load onboard:
2 adults, or 1 adult + 2 kids
To assemble your Tiwal 3.
Easily transportable, your boat fits in 2 bags, with an all-up weight of 110 lbs.
Max. load onboard:
2 adults, or 1 adult + 2 kids.
To assemble your Tiwal 3!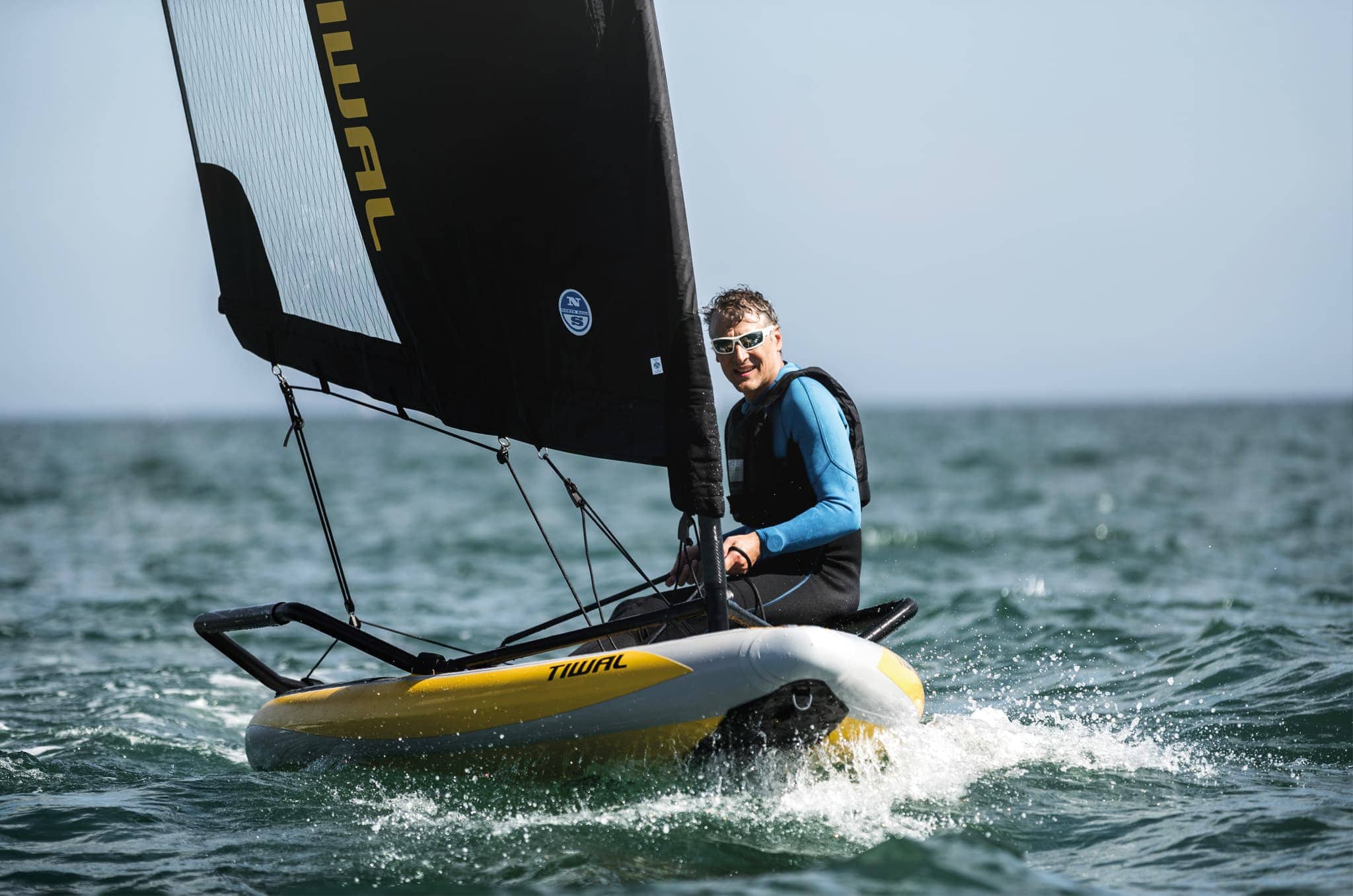 Helm a real small sailboat
The Tiwal 3 is easy to handle and is designed for enjoyment by children and adults sailors alike. Versatile, it is in its element in salt or fresh water and can be sailed in all windspeeds, by a solo sailor or double handed.
Comfortable and secure for beginners to practice on, it is a lively and fast monohull for more seasoned sailors seeking sensations and adventure.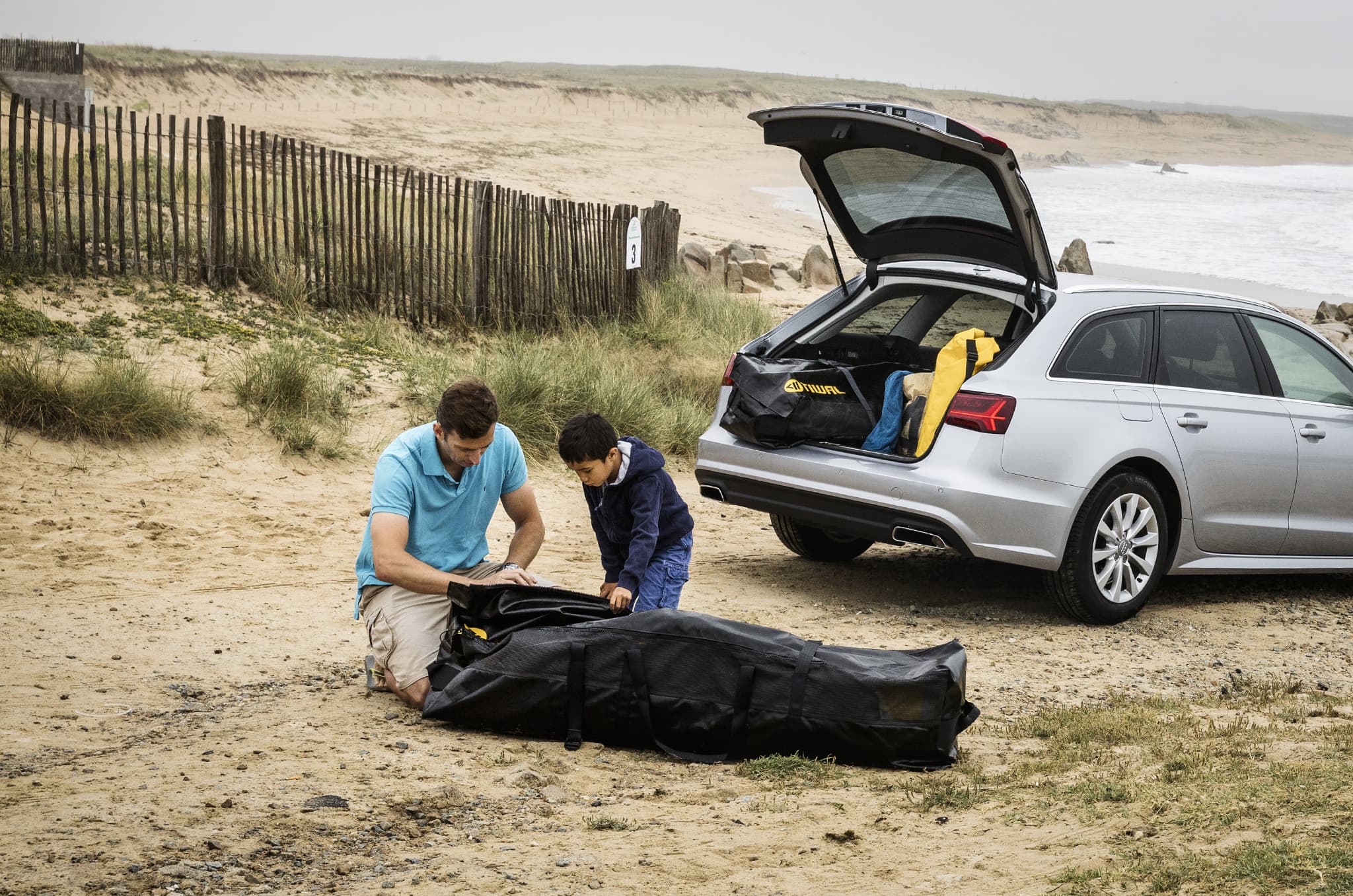 A compact daysailer easily transported
In the trunk of a car or camper van, on the plane, the deck of a yacht or towed behind a bike. Stored in its 2 bags, you can take the ten and a half foot dinghy anywhere, without a trailer, for an evening trip after work or during your holidays!
When not in use, it is discreet, can be tidied away in a closet or (small) corner of the garage.
Hull

Structure
Mast
Sail & blocks
Braided lines
Daggerboard
Rudder
Manual pump
Electric pump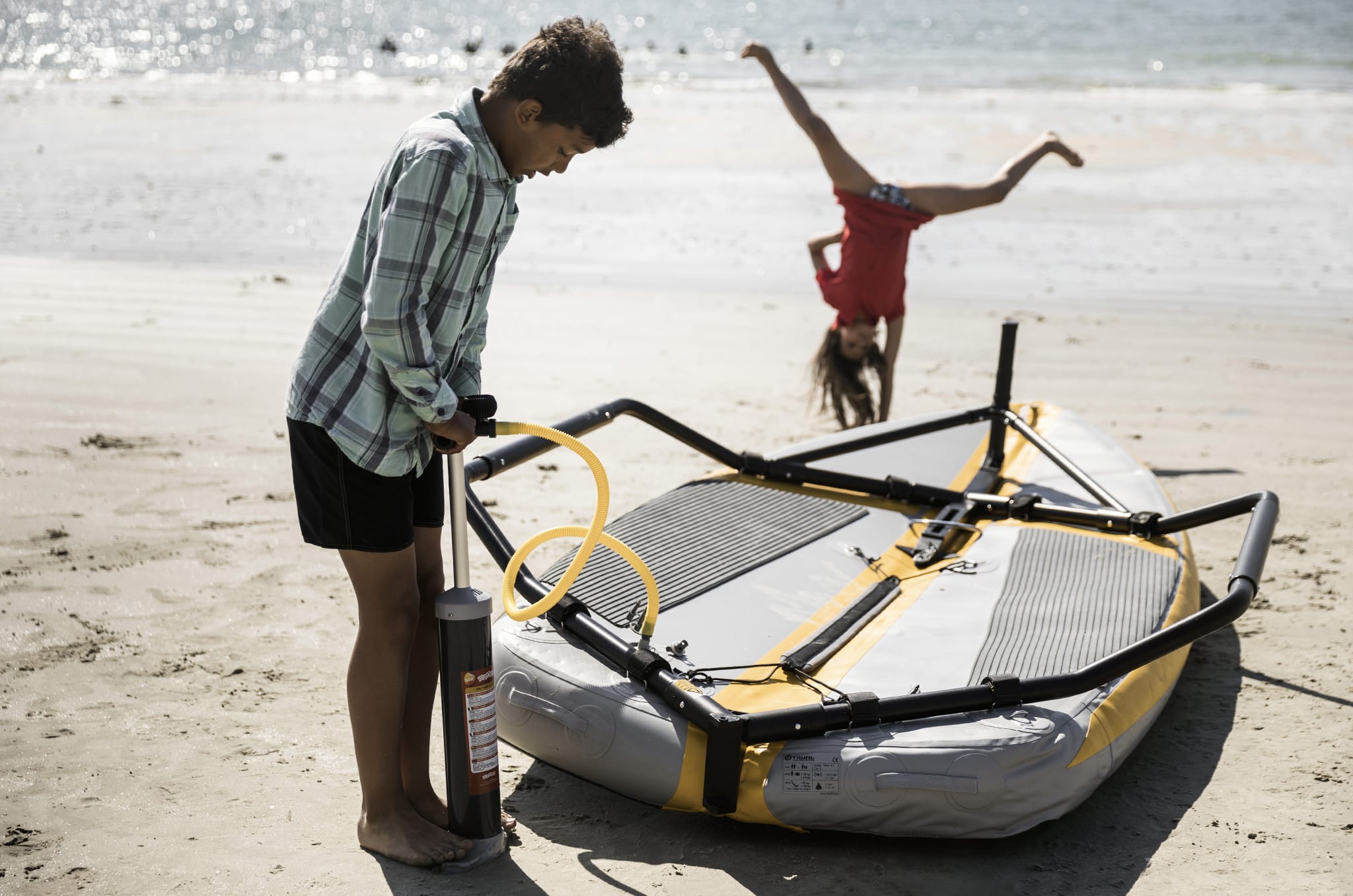 Intuitive and fast to assemble
Do you love boating but the time it takes to get on the water makes you queasy? In 20 minutes, the Tiwal 3 small sailboat can be assembled (and folded back down) alone, without tools or specialist knowledge, using clips and hook-and-loop straps. The cherry on the cake: maintenance is just an occasional rinsing. Basically, a boat with no strings attached!
Tiwal 3 Surfing in Hawaii
Tiwal 3 surfing in Hawaii
Tiwal 3 surfing in Hawaii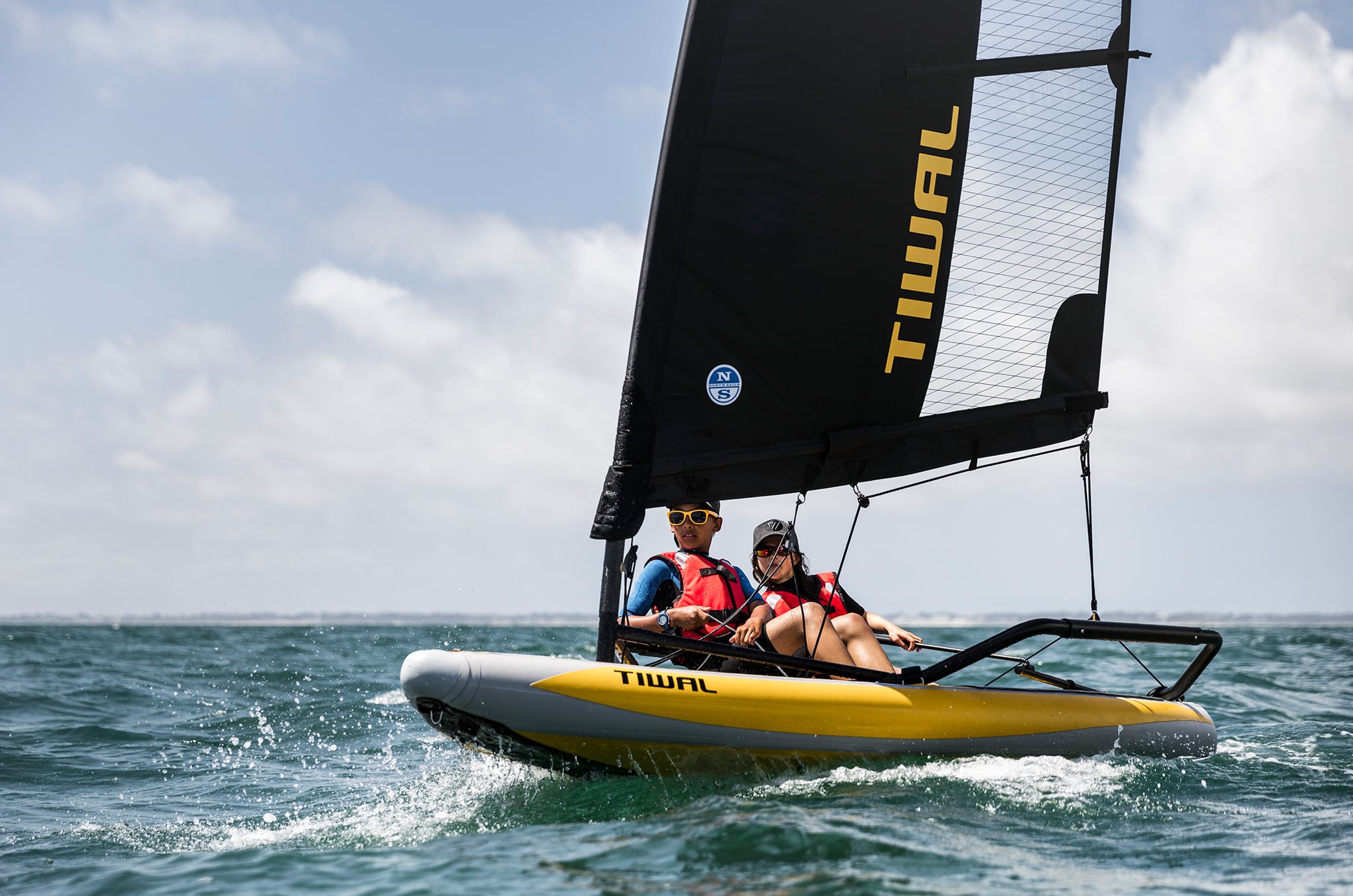 The Tiwal 3 brings new ergonomics to sailing dinghies with its inflatable hull (but rigid when under way), its clear deck, simplified controls and finally a boomless sail. The result? Maximum fun for playing with the wind and water. It even has optional foam protectors on the wings for even more comfort when hiking out. It makes both single and double-handed sailing easy and enjoyable.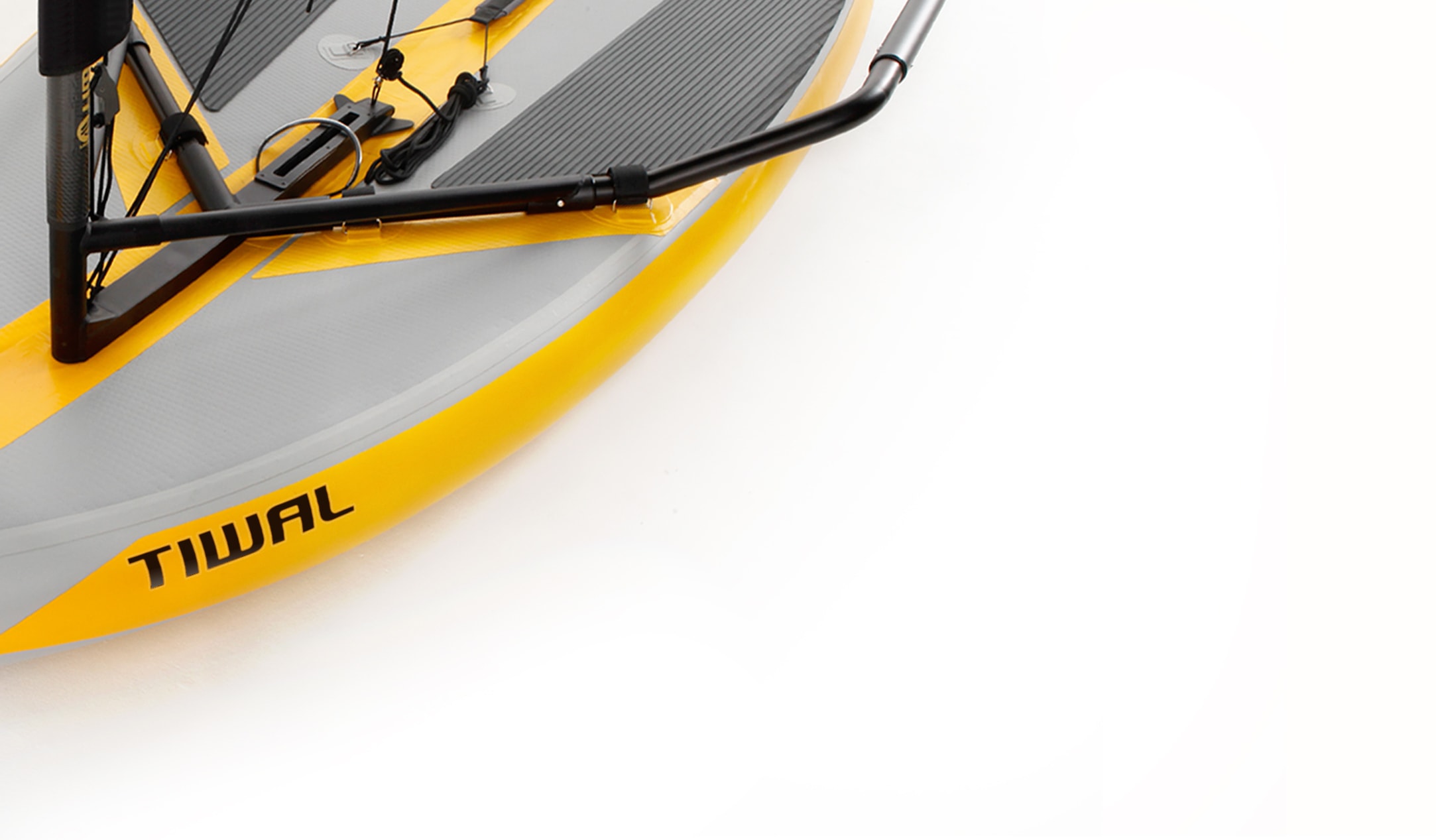 Innovative concept and premium manufacturing
Cutting edge materials, a rig reduced to the absolute minimum and a good touch of daring!
The Tiwal 3 small sailboat is a revolution in the world of dinghy sailing and is the result of serious engineering and realization.
The frequently rewarded combination of an inflatable hull with an aluminum structure enables the Tiwal 3 to have exceptional rigidity.
With over 2,000 boats sold, the Tiwal 3 dinghy is a tried and tested boat, made in France according to industry standards.
Learn more about how it is made!
Mast: carbon C50
16′ 1" – 5 parts
Framework: anodized aluminum
Hull length: 10' 6"
Sail: North Sails Dacron (Dacron, and Monofilm depending on the model)
Blocks: Harken
Boat weight (empty): 110 lbs
Maximum load: 440 lbs
2 adults
or 1 adults + 2 kids
Max load on wings: 1 adult / 242 lbs
Draft: 2' 5"
2 carrying bags:
4′9″ × 16″ × 14″ / 62 lbs each

The 75 ft² sail is a powerful mainsail, suitable for one or two adults out in a light to moderate breeze.
The 56 ft² sail is very versatile. It works well for adults sailing in a good breeze, and for the kids in lighter wind conditions.
Lastly, the reefable 75/56 ft² sail is an all-weather mainsail, whose area can be adapted to suit the wind strength. If the weather changes, you just need to make a quick stop on the beach to make your optimal sail area.
We pay particular attention to the construction standards of our boats.
Each manufacturing stage is carefully checked here in our workshops and at our suppliers. We take great pride in the quality of our boats. That's why all our parts are guaranteed for 3 years in private use. More details
Discover

our other models