The family sailing dinghy​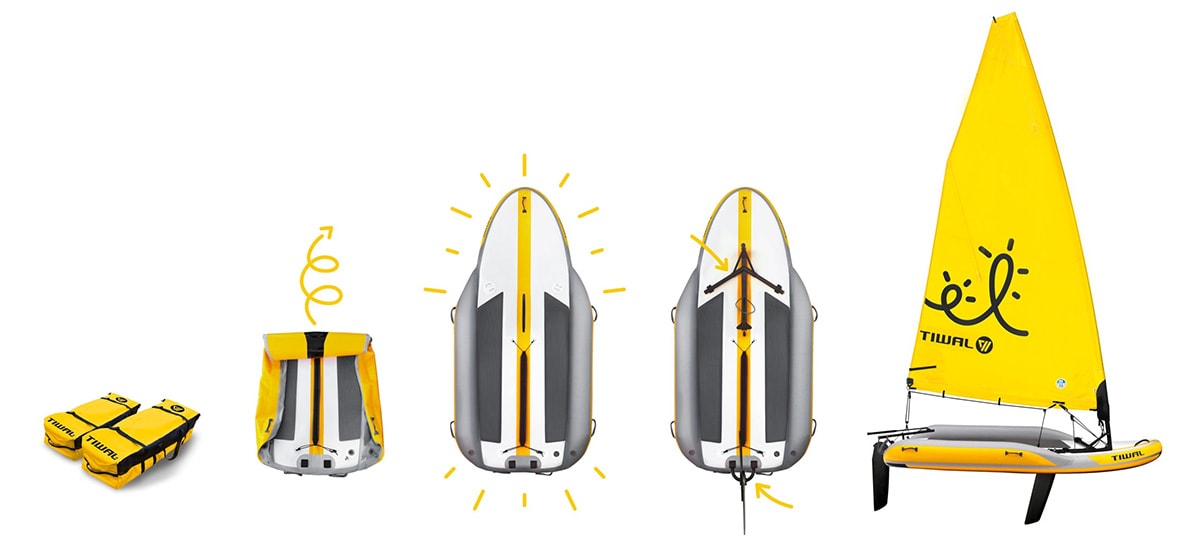 Going on vacation with the kids? Is the forecast looking good for the weekend? Your Tiwal 2L sailing dinghy is already in your car and all the family are looking forward to sharing some new adventures on the water. What will you name your new sailboat? What will be the theme of your next sailing adventure? Your Tiwal 2L is ready to sail!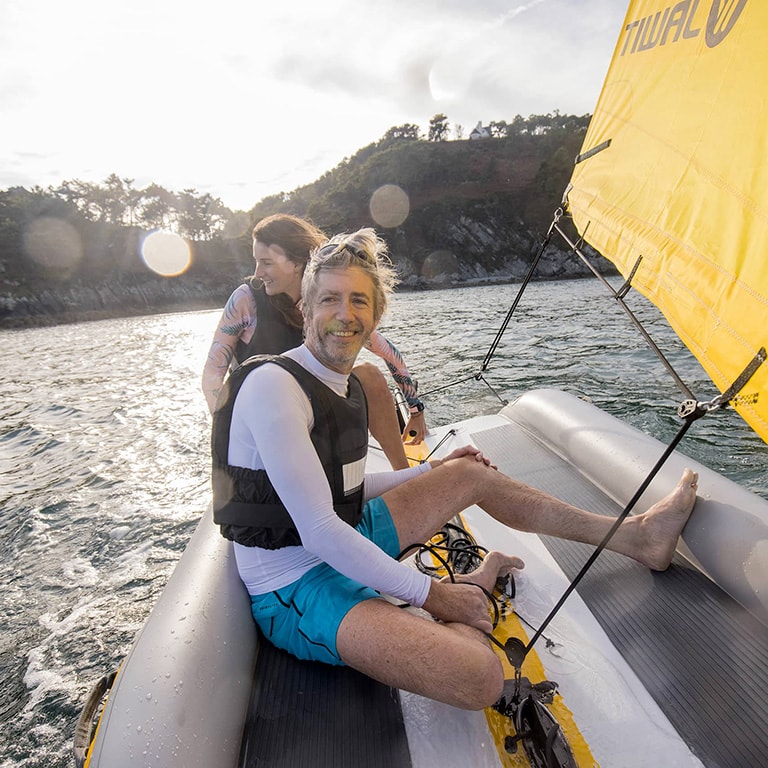 Easily transportable, your boat fits in 2 bags, with an all-up weight of 103 lbs.
To assemble your Tiwal 2L.
Easily transportable, your boat fits in 2 bags, with an all-up weight of 103 lbs.
to assemble your Tiwal 2L.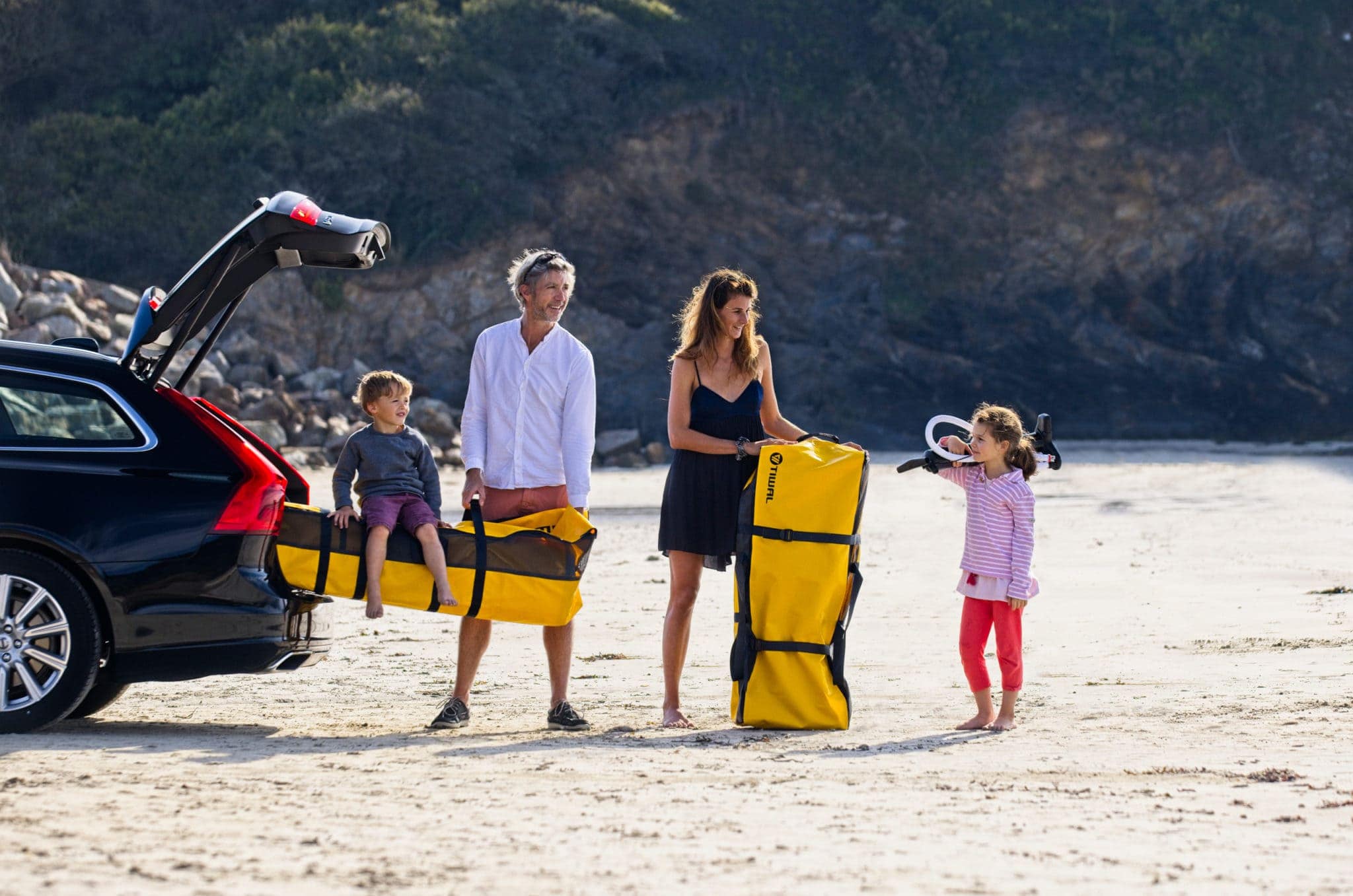 A big boat that you can fit anywhere
The two bags containing the Tiwal 2L are easy to transport by car. The size of the bags mean you can still keep part of the trunk for your luggage. You can carry the bags on your own or between two. Your boat can accompany you everywhere on all your trips for maximum fun at your destination!
Structure
Sail
Daggerboard
Rudder
Manual pump
Electric pump
Hull
Mast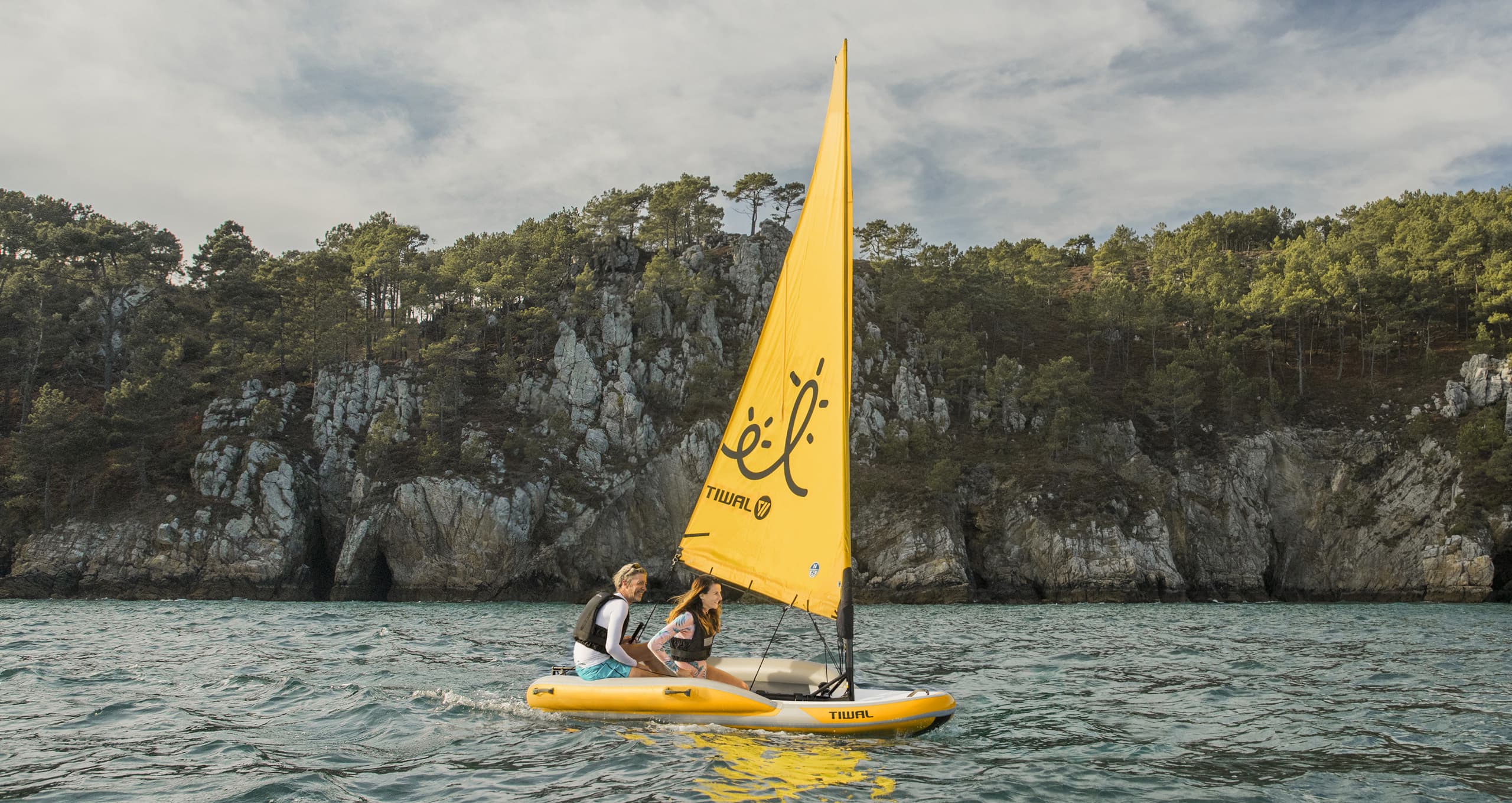 A great boat for everyone
Whether you're a couple, with the kids, or single-handing, the Tiwal 2L sailing dinghy adapts to all your sailing options. With a length of 10′ 10″, it's really comfortable in most sea conditions, even in waves. The volume of the scow-shaped bow and the wings contribute to the boat's great handling downwind and its stability when tacking or gybing.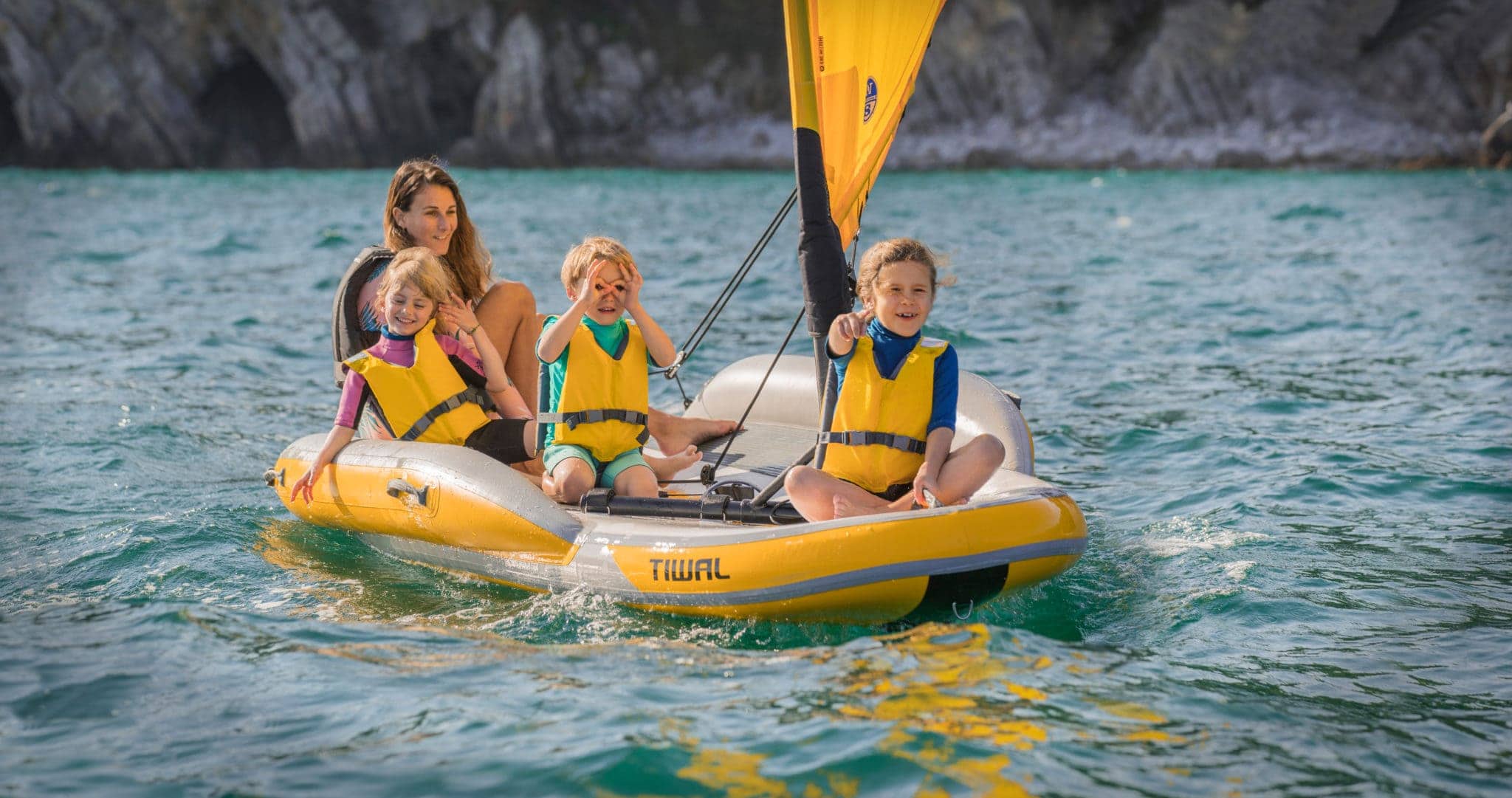 A new standard of comfort and safety
The Tiwal 2L provides sailors with a clear deck for easily moving around on board. The inflatable wings provide both a comfortable seat for adults and reassuring support for children, with handles to hold on to. The Tiwal 2L offers maximum space on board for sailors to enjoy.
Putting it together is child's play
From opening the bags to getting out on the water, the Tiwal 2L can be assembled in just 15 minutes, with no tools required. First, the hull is inflated to a low pressure with the rechargeable electric pump. The aluminum frame is then fitted to the hull and simply clipped on. All that remains is to add the rig after inflating the boat to high pressure with the manual pump. It's a game for the whole family! And stowing it away later is just as easy.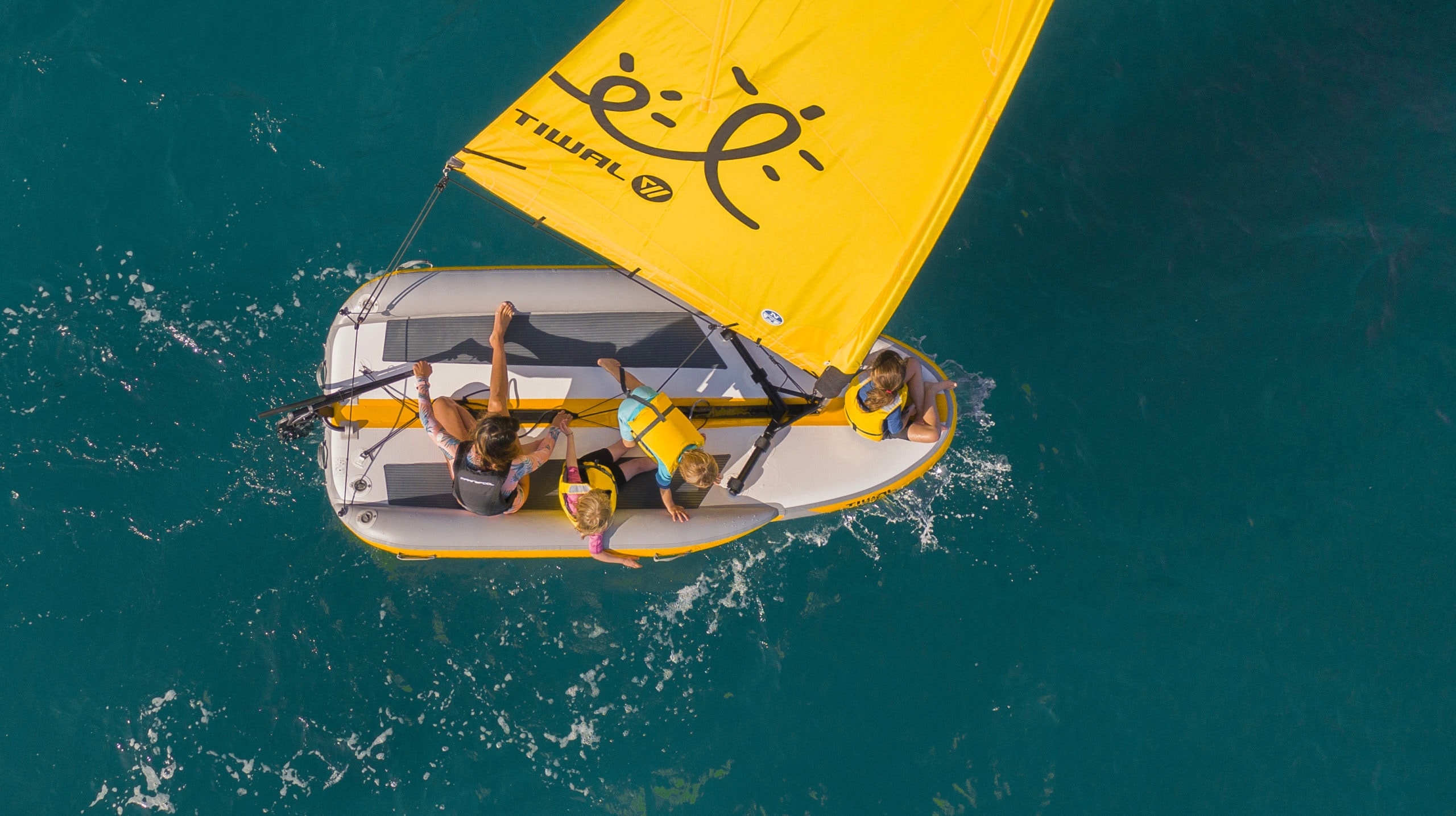 Innovative concept and premium construction
The Tiwal 2L sailing dinghy was designed by Marion Excoffon to allow your whole family to have fun on the water together, or by yourself. The design of the Tiwal 2 is a clear reflection of this enjoyable and reassuring atmosphere with its bright color and rounded shapes. It promises unforgettable adventures that will bring together sailors young and old. The simplicity of its appearance is made possible by the innovative technology used in its construction. This is a real boat carefully produced in our workshop according to our industrial manufacturing criteria. It is a new class of sailing dinghy.
Mast: carbon C50
16′ 1" – 5 parts
Framework: anodized aluminum
Sail: North Sails Dacron (Dacron, and Monofilm depending on the model)
Blocks: Harken
Boat weight (empty): 103 lbs
Maximum load: 440 lbs**
2 adults
(or 1 adult + 2 children)
Draft: 2' 5"
2 carrying bags:
Hull bag: 4′9″ × 16″ × 14″ / 77lbs
2nd bag: 3′7″ x 16″ x 10″ / 45lbs
** The standard recommends 2 people of 165 lbs or a person of 165 lbs and 2 of 82 lbs. As builder we accept the use of the boat with a 165 lbs person and 3 people of 55 lbs.
The 71 ft² furling sail is a practical sail, suitable for one or two adults sailing in a light to moderate breeze. It rolls up around the mast for easy storage.
The 75 ft² sail is a powerful sail, suitable for one or two adults out in a light to moderate breeze.
The 56 ft² sail is very versatile. It works well for adults sailing in a good breeze, and for the kids in lighter wind conditions .
Lastly, the reefable 75/56 ft² sail is an all-weather sail, whose area can be adapted to suit the wind strength. If the weather changes, you just need to make a quick stop on the beach to make your optimal sail area.
We pay particular attention to the construction standards of our boats.
Each manufacturing stage is carefully checked here in our workshops and at our suppliers. We take great pride in the quality of our boats. That's why all our parts are guaranteed for 3 years in private use. 
More details
Discover

our other models