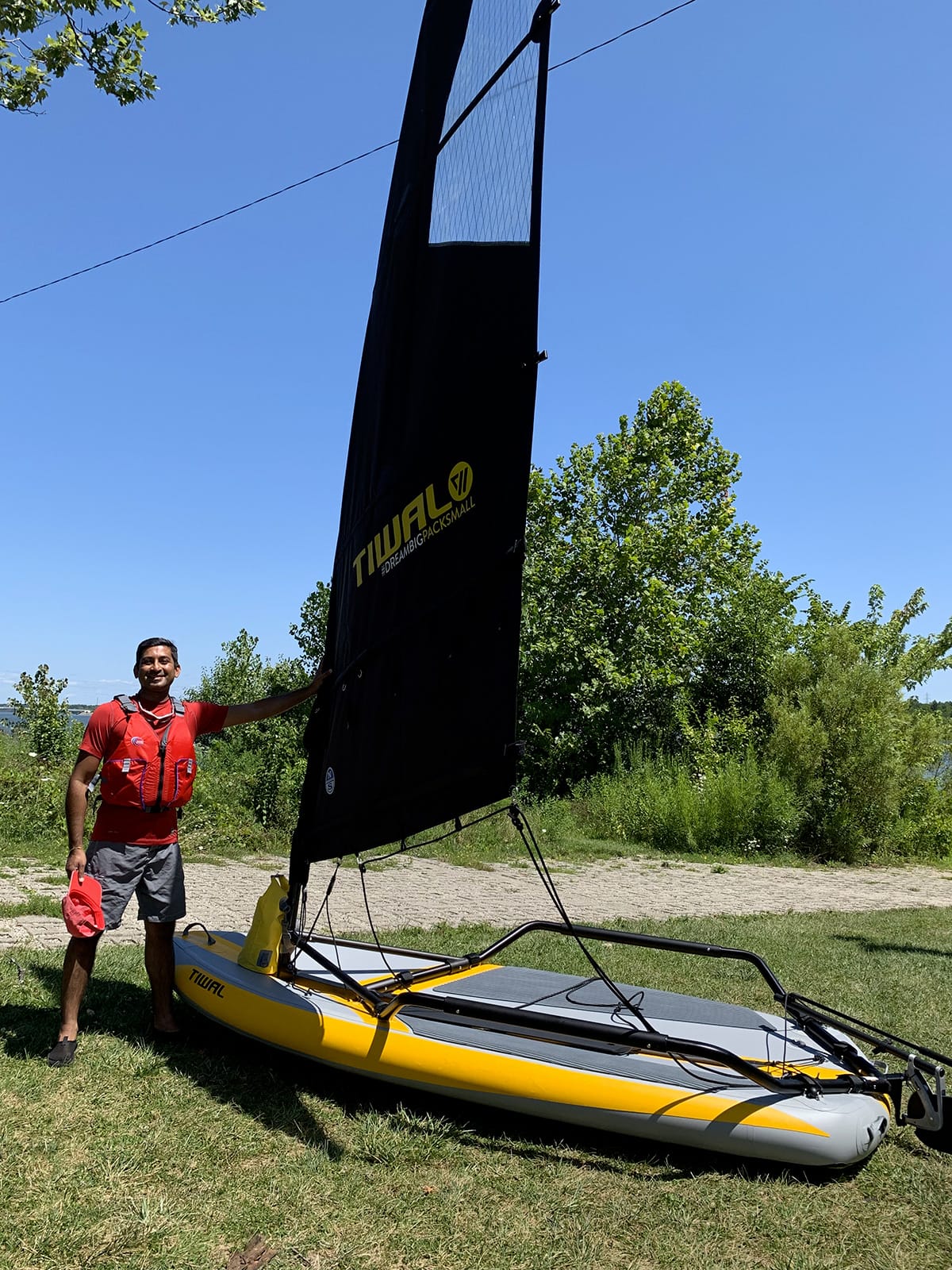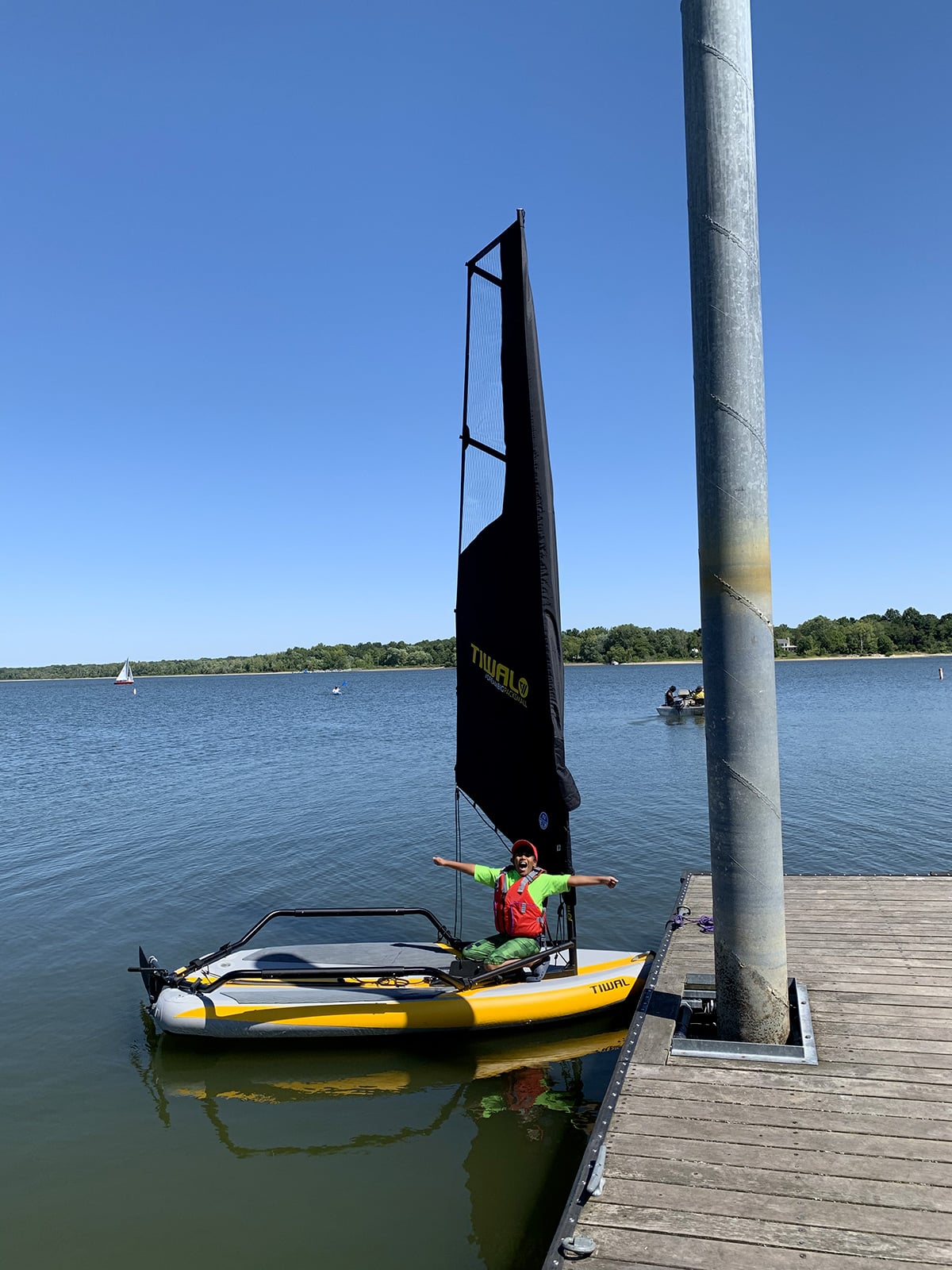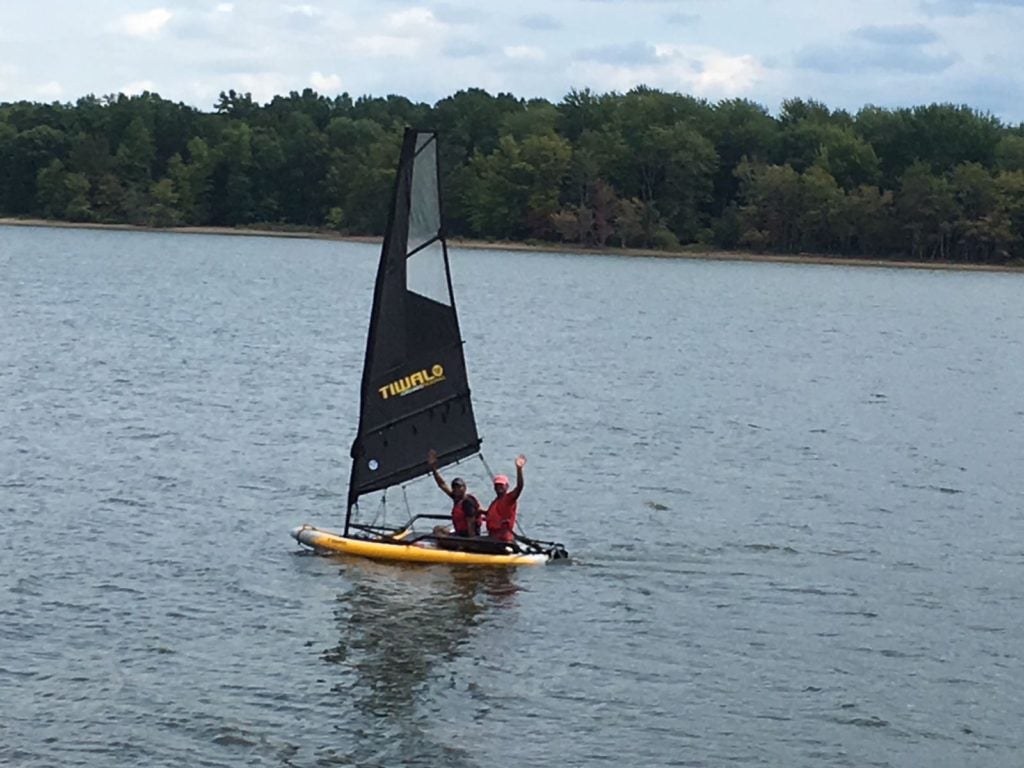 My name is Saket and I live in Columbus, Ohio. I'm from the US.
Which Tiwal model do you have?
I have the Tiwal 3 small sailboat. I've had it pretty much when it got launched, I kind of put the order right in. It's almost two years now that it got launched. I've had it the entire time, used it for two summer seasons out here.
What was your experience before Tiwal?
Before this, I really did not have any experience. Sailed a little bit on a Hobie Cat and a Laser 420, that's the one that I learned on, and then after that I just moved on straight to the Tiwal. So my experience is limited on the different types of boats but I love Tiwal.
Where do you sail?
I sail mostly in a reservoir like we have a lake over here, it's actually right behind my house. I can just take the boat out there and that's primarily why I got the boat for. It's a nice lake and since it's inland, so the breeze kind of keeps shifting, it's that's the fun of it.
I've not tried it out anywhere else but I'm hoping that I can take it out in the ocean someday.
Single-handed or double-handed?
I always love to go sailing by myself. I have taken my little child with me. He's a teenager now, so he's 14. I took my wife on it as well once. A lot of people, my family are always interested in joining me but mostly I like to go solo. It's just so much fun.
I'm new to sailing so this is something that I was just wanting to get into, and I felt this boat was just perfect for you to be in there, kind of learn the ropes as well, kind of understand it, and perfect yourself you know. I was still not confident on how fast, how well I could sail, but I got to learn a lot on this boat.
How is it going so far?
It's definitely my passion, I really enjoy it. I mean, I can't wait for any time that I'm like… Okay I have like two hours right now. Perfect time two hours is enough for me to sail because I can quickly get it out.
Like I said, the lake is right behind my house I can just get in the water, go for a quick sail 30 minutes also 40 minutes of sailing time. I'm more than happy it's a good exercise, a good amount of time. Sometimes when I have a lot of things on my mind and I just want like catch all my thoughts, I get that time for myself and then get it back in, stock it back up, just as fast as I can do it.
Which characteristics did surprise you?
There are so many things that surprised me. The quality of the boat was really good, the design, I'd not expect it to literally fly so well, it sails beautifully, it sails smoothly. But I think something that gives me the most satisfaction, happiness is, it's like you know the design and everything when it just fits together and when it comes together, it's like that satisfaction when you hear it click, it actually is very satisfying to hear that click. You're in the water and you're going out and you're sailing, so that it's that feeling that is the feeling that you get, it clicks and it works.
One more thing I would definitely love to add: I was very pleasantly surprised by the design, I was very pleasantly surprised by the build and the quality, and like I said, the biggest satisfaction is when it all clicks together and you know at that time that I'm ready to go sail. It's just like click, you know you go sail.
What is your best memory with your Tiwal?
I think the best memory was probably the first time that I took it. I had a lot of fun just sailing it and it builds so much confidence in those waters for me. Sailing this boat for the first time by myself and I just did it on my own Tiwal.
My second best memory also is worth noting because I remember the time when I flipped it, I actually enjoyed it, it was fun, it was fun to just flip the boat and then get back upright I actually enjoyed getting wet.
Where would you dream to sail with your Tiwal?
I want to take my Tiwal everywhere. I have so many fantasies of, yonu know, getting an RV, backpacking, put the Tiwal in the back and then go visit the different lakes. We have the five great lakes here in the US and so many more, smaller places around and I definitely want to keep trying it in all of those places. So that is definitely something that I want to do. I want to go RVing, I want to go through all the different places and the different states in the US and try my Tiwal out in different waters, so there's a lot on my list that I want to do with it.