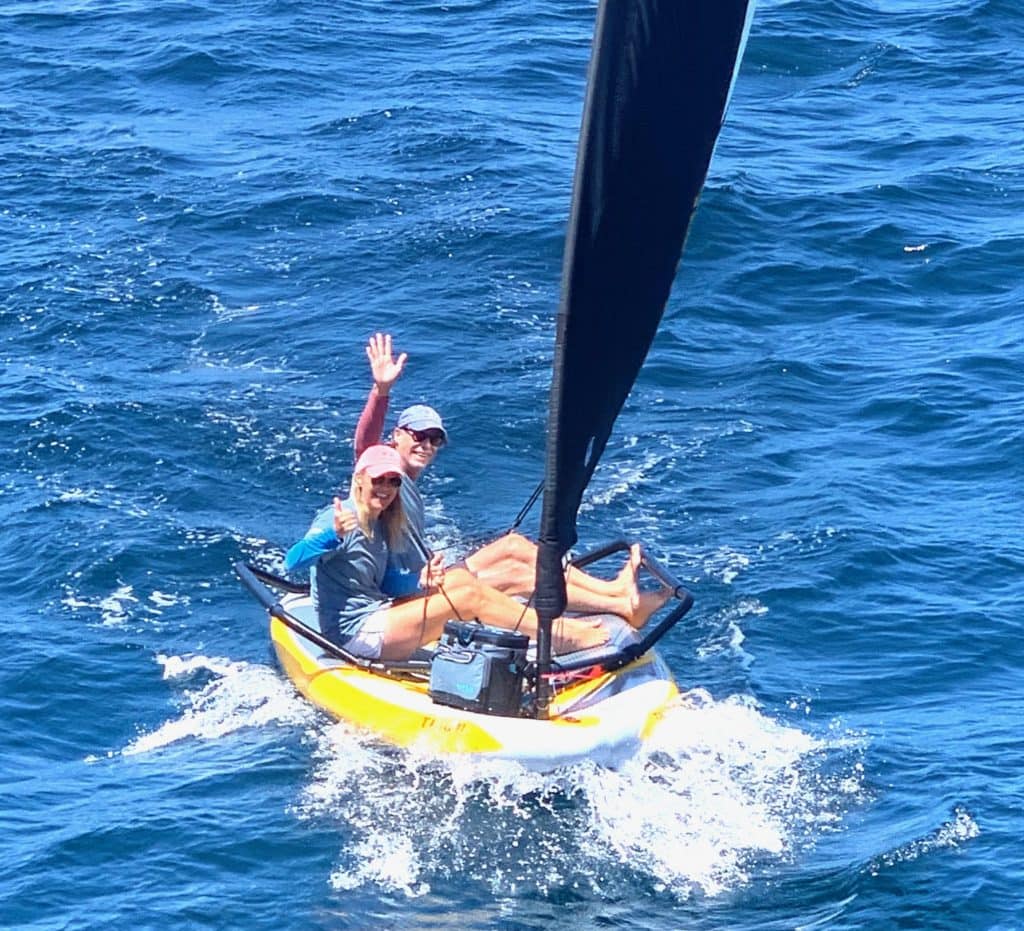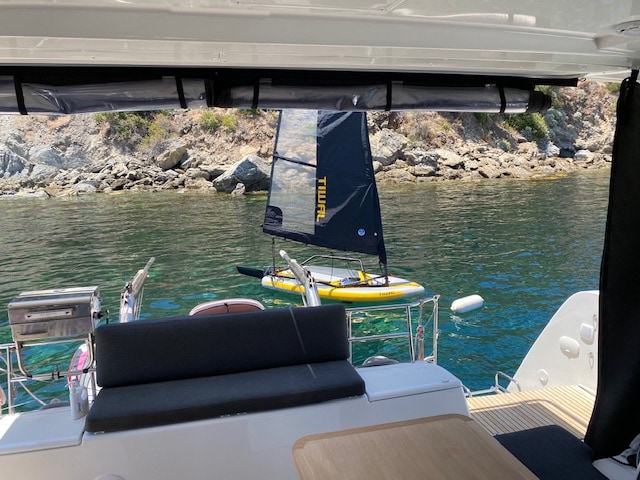 I'm Mark and I am from Los Angeles, California.
Which Tiwal model do you have?
I have the Tiwal model 3, and I believe I've had it 5 years.
Where do you sail?
I sail in the most wind I can find.Typically it's in the isthmus of Santa Catalina Island about 20 miles off thecoast of Los Angeles. It's a low-lying area and the wind whips through the island,so I'll be sailing in 17 to 20 knots of wind.
How do you use your Tiwal?
For two years we've had a Lagoon catamaran, so we launch it, we keep, we store it in the starboard bow, we pull it out, assemble it and I get to get my mono-hull time.Everywhere we anchor or we're in a port or however with the big boat, I'm always sussing out the situation, where's the wind coming from, you know, where's the bestspot to go in and off the beach… It's truly become a part of our cruising and we'll have picnics on the beach and take turns going on and off the beach and the Tiwal, and it's wonderful. We love it!
Single-handed or double-handed?
Typically, my kids are older, they're up in San Francisco now, but when they do come to the boat they always want to get on the Tiwal.It's wonderful, it's such a great way to introduce people to sailing and there's something about the fact that it's not a rigid dinghy and they see that it inflates even though it does inflate to a pretty serious dinghy. They get this notion that "oh it'sgonna be more fun" and then of course, it's a lot of fun! But typically I sail it by myself. I used to race dinghies when I was younger so it's a lot of fun and then of course, in the evening, if the wind is light, my wife and I will go sailing… And you know, little booze cruise together in light winds.
How is it going so far?
I just love it. I love the construction, I love the support that I'm getting from Tiwal, I truly enjoy it. I'm 60 years old and it is truly my playtime.
Which characteristics surprised you?
The sailing ability of the boat, the downwind performance, the overall construction…
It's essentially a bulletproof boat and people are very surprised.
Of course everybody wants to see the Tiwal, no one cares about the catamaran,
so I'll say "go ahead, grab the bars". I mean, you can't believe how rigid and
how strong it is and how well built.
What's your best memory with your Tiwal?
My best memory's when we got it originally. Kids were more in the teenage ages,
and then their friends would come. I remember my daughter's boyfriend,
who's from the bay area, it was the first time he'd ever been on a small sailboat
and he looked at me. He had this look on his face. We weren't going fast but we were sailing well, and he said: "This is magical. It's just magical."
And then, the family went on to buy a small sailboat, and now they have another boat, so it sparked an interest, that's taken on, it's kind of
contagious now and the whole family sails.
How does Tiwal perform?
I've gone 10.8 knots.Sailors that are around us on their boats… And they'll look and, you know… "Oh yeah that looks nice…"I said: "I've gone almost 11 knots. And you're four inches off the water."and then they'll say: "I've never even sailed that fast on my boat!"