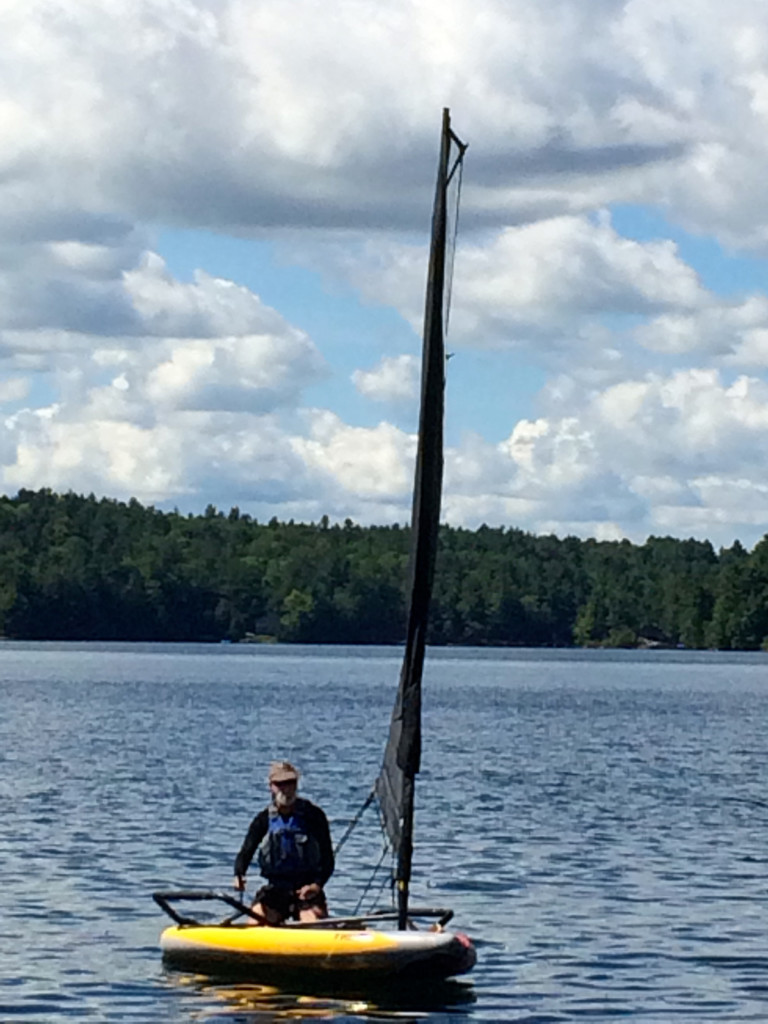 My name is Jerold, I live in Buffalo New York
Which Tiwal model do you have?
I have the Tiwal 3 and I've had it now for a bit more than a year. I bought it in the early summer 2020.
How did you find out about Tiwal?
When I'm sailing in the US during the summer, I generally sail on keel boats in the sailboat club here in Buffalo on Lake Erie but last year, because of Covid, I didn't want to share boats and so I started looking around on the Internet for a dinghy that I could sail by myself and I came across the Tiwal. The online presence of the Tiwal videos, and the descriptions, it sold to me right away, and so I was pretty certain right away that that was the boat that I wanted to buy and so I did. It was the combination of the videos of people sailing the boat and the information that really hooked me.
What was your experience before Tiwal?
I've sailed a lot in the North Atlantic on larger keel boats: Norway, Iceland, Greenland, Caribbean, Spain, Morocco, Canary Islands.
Where do you sail?
On the Tiwal, I sail mostly just locally so I sail on Lake Erie which is a couple of miles away from where I'm sitting right now, and I sail on smaller lakes in western New York and up near the St Lawrence Seaway.
Where do you store you Tiwal?
Well, I keep it in the garage. I take it in the car to the lake and assemble it there. And this summer, I assembled it early in the year and just left it at the sailing school from which I launch onto the lake. The owner of the sailing school Sail Buffalo was very nice about it and just let me keep the boat there and so then I just I leave it on the dolly and just push it down to the launch ramp and out on the lake in a few minutes, so it's very convenient.
Single-handed or double-handed?
Normally, I would say I sail by myself. The conditions generally on Lake Erie are, along the shore at least, are relatively mild, moderate and so I sail by myself. Sometimes I sail with my wife but almost I would say most of the time solo and I enjoy that a lot because I mean the controls on the boat are very simple, there's nothing complex about it as there would be on a larger keel boat, so it's sometimes challenging but mostly it's just a mode of relaxation.
How is it going so far?
I love it, I love it! It's, even this summer when it was clear that there were no real problems with the possibility of infection from Covid from sharing boats, I went back to sailing on keel boats, but I sailed the Tiwal almost as much as I sailed on keel boats this summer because it's just so much fun and I don't need to find, I don't need to find a crew to sail one of the keel boats if it's large enough that I that I need someone else on the boat, so it's, I don't know it just seems eternally convenient and great fun.
I got the reefable sail that pushes the availability of sailing days up a great deal because I can go all the way up to the upper end of force 4 and still be, I don't know, safe and comfortable sailing so I would say it's going great I love this boat.
Which characteristics did surprise you?
I guess the handling, it really does just turn on a dime, even with I don't know four or five knots of wind it just takes off on the water, so it's so responsive to the wind, it handles waves reasonably well if you're heading into two meter waves it really functions as a break on the boat but even so you can get through them, but I would say yeah the response of the boat, its portability is also very very important because I'm no longer exactly young but I can carry the bags as far as I need to and the assembly time is not onerous. Yes what's surprising I would say response, portability and the speed with light wind.
What is your best memory with your Tiwal?
Last summer I was sailing with my wife on a small lake called Millsite Lake in the thousand island areas in northern New York near the Canadian border near the St Lawrence Seaway.
The lake was, I don't know, three miles wide and a mile and a half long and there were loons everywhere and so when we sailed, it seemed like we were dodging loons everywhere we went and they were calling out the whole time and then we suddenly looked up above and there were bald eagles spiraling above us on the thermals and there we were just sailing along with 10 knots of wind with all this going on around us it was and it was just at sunset it was glorious.
Where would you dream to sail with your Tiwal?
It's a great question and I'm afraid I don't have a great answer because I'm really satisfied where I'm sailing now. I mean, you know, who wouldn't love to sail the Tiwal in Tahiti or, one island to another in the Aegean but I don't know, I think those are pipe dreams. I'm pretty satisfied with what I'm doing right now.